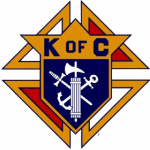 Charity  –  Unity  –  Fraternity  –  Patriotism
Dr. J.F. Dunn Council 5153
St. Mary's Carleton Place ON & Holy Name of Mary Parish, Almonte ON
On 29 March 1882 the Knights of Columbus (KofC) was officially chartered as a fraternal benefit society with the founding principles of Charity and Unity. The principles Fraternity and Patriotism were added in 1885 and 1900 respectively. The driving force for the founding of the KofC was Father Michael J. McGivney, assistant pastor of St. Mary's Church in New Haven, Connecticut.
The KofC was originally formed as a Catholic fraternal benefit society to render financial aid and assistance to sick, disabled and needy members and their families. Social and intellectual fellowship is also promoted among members and their families through educational, charitable, religious, social welfare, war relief and general public relief works.
The Knights of Columbus has grown from a few members in one council in New Haven, Connecticut to over 1.8 million members in more than 14,000 councils throughout the United States, Canada, the Philippines, Mexico, Poland, the Dominican Republic, Puerto Rico, Panama, the Bahamas, the Virgin Islands, Cuba, Guatemala, Guam and Saipan.
The KofC has helped many families obtain economic security and stability through its life insurance, annuity and long-term care programs. Its councils and members have also contributed incalculable time and energy worldwide to provide financial and other assistance to Christian community projects and activities.
With an active membership, Dr. J.F. Dunn Council 5153 holds monthly general meetings alternating between Almonte and Carleton Place.